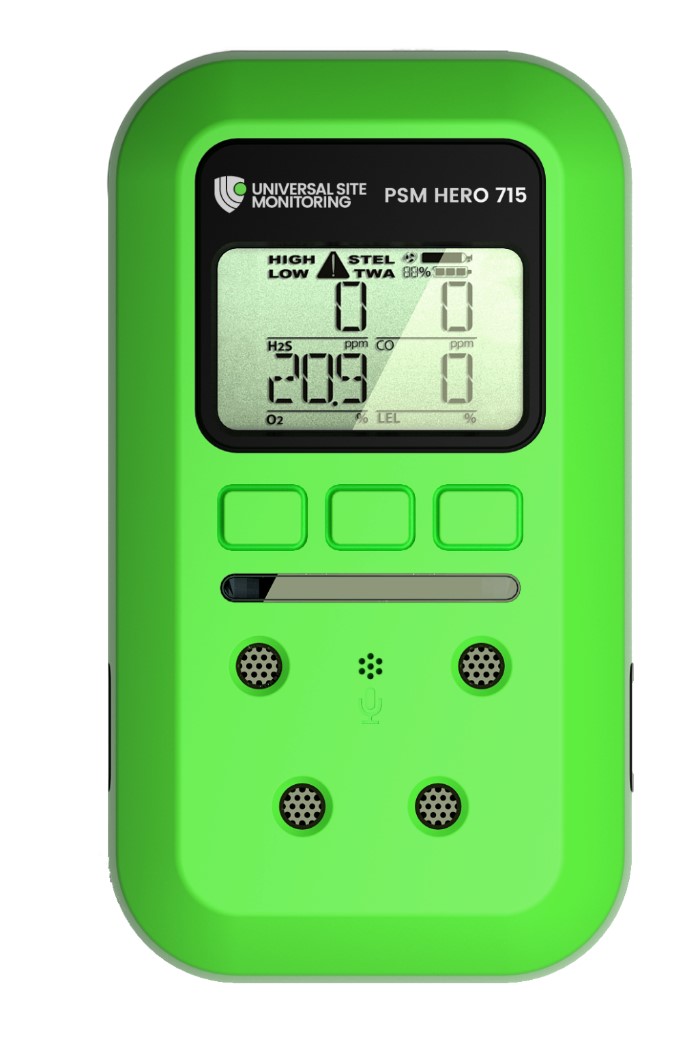 Universal Site Monitoring presenta un dispositivo global que combina todas las características esenciales de seguridad en una unidad de mano: el PSM Hero 715. Orgullosamente diseñado. 
Esta tecnología patentada tiene una amplio abanico de opciones personalizables, incluyendo algunas como: comunicación a tiempo real; detección de gas; detección de ubicación; resbalones, traspiés y caídas; monitorización del ritmo cardiaco. El PSM Hero 715 es capaz de hacer llamadas de voz, enviar mensajes usando varias redes de comunicación para asegurar el envío de datos independientemente de las condiciones de trabajo. Toda la información es enviada al centro de control, para proveer a los operadores y managers una completa supervisión del estado de salud y seguridad de los trabajadores usando inteligencia operativa para obtener los mejores resultados en complejas situaciones de riesgo.
La industria ha crecido y desarrollado análisis de activos fijos durante décadas, y ahora se puede obtener el mismo nivel de información y datos sobre las personas gracias a este producto innovador.
La tecnología de PSM Hero 715 ha crecido durante años con pruebas en Europa y numerosas consultas con profesionales de la industria en la mayoría de los continentes en numerosos sectores. Fue construido desde el principio como un producto de seguridad, no para solucionar un único problema, sino varios problemas a la vez, y dejando espacio para la incorporación de tecnología de última generación.
El PSM Hero 715 ha alcanzado los objetivos de certificación de seguridad después de tres años de diseño y está preparado para ser distribuido a nivel global en el último trimestre del 2017.

Universal Site Monitoring presents a global first device that combines all the essential safety features into one hand held unit; the PSM Hero 715. Proudly Australian designed and manufactured.
This patented technology has a full suite of customisable features including but not limited to: real time voice and data communication, gas detection, location sensing, slips, trips and falls monitoring and biometric data collecting. The PSM Hero 715 is capable of making voice calls and sending text messages using more than one communication network that ensures data is sent regardless of working conditions. When all the information is sent to a central control point, it provides operators and managers complete oversight of their workers' safety and health status using operational intelligence to get the best outcomes in complex hazardous situations.
Industrial sites have grown and developed analytics on fixed assets and plants for decades, but now the same level of data and insight about people can be obtained in real time thanks to this innovative product.
The PSM Hero 715 technology has grown over the years with trials in Europe and consultation with Industry professionals across several continents in many industrial sectors. It was built from the ground up as a safety product, not solving one safety issue but addressing many at once and leaving room to grow as new technology arrives.
The PSM Hero 715 has finally reached its intrinsically safe certification goals after 3 years of design and is gearing up for production to export globally in the last quarter of 2017.