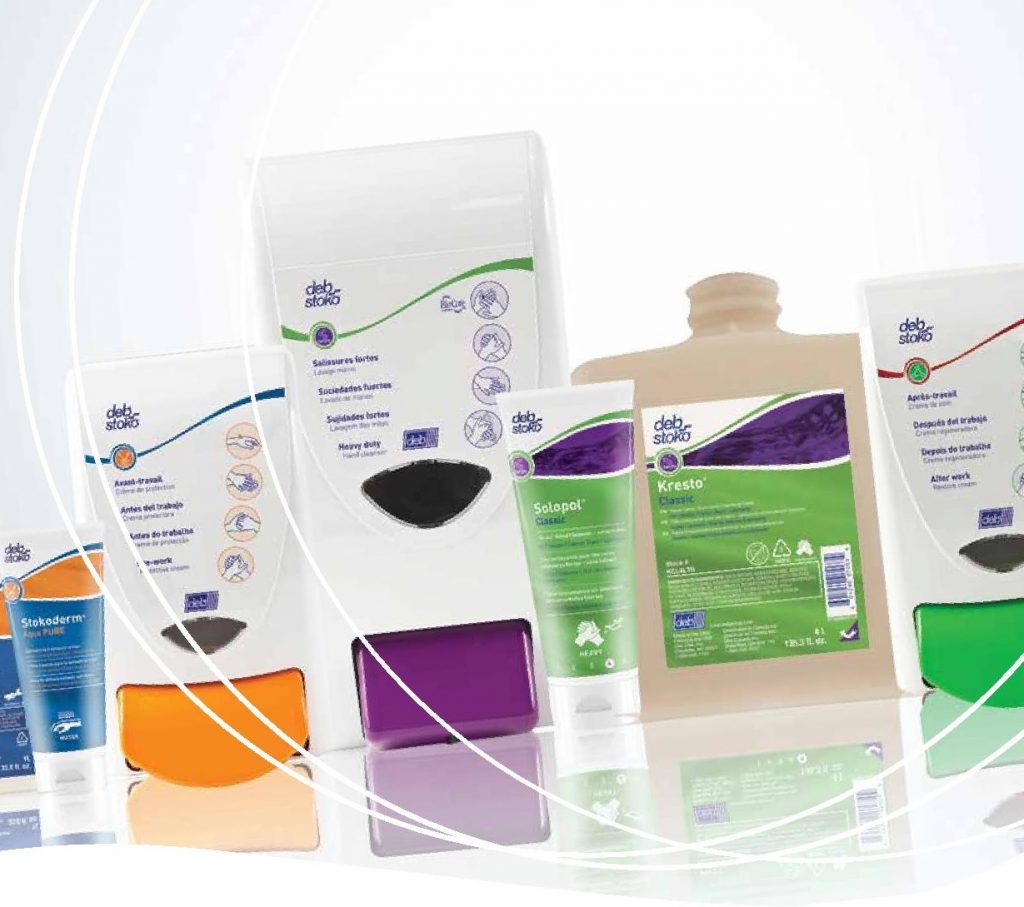 Durante más de 80 años, el Grupo Deb ha creado programas de seguridad de la piel para todo tipo de lugares de trabajo y entornos públicos, lo que incluye los sectores industrial, comercial, sanitario y alimentario.
Nuestra Gama DebStoko® de productos se adapta a una gran variedad de preferencias y requisitos de aplicación de los usuario. Todos los productos Deb están plenamente probados, respaldados y codificados con colores para una fácil identificación.
Protección
Cremas de protección de la piel para usar antes del trabajo que ayudan a proteger la piel del contacto con diversos contaminantes e irritantes del lugar de trabajo
Limpieza
La limpieza adecuada de las manos juega un papel vital en la prevención de la dermatitis ocupacional. El uso de limpiadores apropiados ayuda a eliminar la suciedad y los irritantes a la vez que mantiene la piel en condiciones saludables
Desinfección
Soluciones antisépticas para manos que pueden usarse sin agua para eliminar los gérmenes y proporcionar un nivel mayor de higiene de las manos y de desinfección de la piel.
Regeneración
Las cremas acondicionadoras para después del trabajo ayudan a tener una piel sana manteniéndola suave y evitando la sequedad. El buen estado de la piel es un elemento importante para asegurar unos buenos hábitos de higiene de las manos.
For more than 80 years, Deb Group has created programs skin safety for all types of workplace and public environments, including industrial, commercial, healthcare and food sectors. Our product range DebStoko® accommodates a broad variety of user preferences and application requirements. All Deb products are fully tested, supported and colour-coded for easy identification.
Protect
Pre-work skin protection creams help protect the skin against contact with various workplace contaminants, irritants and working conditions.
Cleanse 
Appropriate cleansing of the hands plays a vital part in preventing occupational dermatitis. Using the appropriate cleansers will help with removing dirt and irritants while keeping the skin in a healthy condition.
Sanitise
Hand sanitizer that can be used without water to kill germs and provide a higher level of hand hygiene and skin disinfection.
Restore
After-work skin restore creams helps to maintain the skin in healthy condition by keeping the skin soft and supple, avoiding dryness. Good skin condition is an important element in ensuring good hand hygiene practice.